Oar Restaurant & Rooms
Offering rustic fine dining in the heart of Doolin with accommodation that includes 4 rooms and one suite.
Call us on +353 (0) 65 7047990 for enquiries and bookings.
We look forward to welcoming you.
We love what we do and we hope you do, too!
Oar Restaurant and Rooms are located along the Wild Atlantic Way in the bustling village of Doolin in Co Clare. Owned and managed by well-known restaurateur Kieran O'Halloran, Oar Restaurant offers fine food in a rustic friendly setting. His head chef Cezary Sodel utilises only the very best of local produce for his creative dishes.
Restaurant opening times:
Wednesday to Sunday
from 5.30 to 9pm

Our Rooms are also available for booking.
We are looking forward to welcoming to Oar all our wonderful existing and new customers, suppliers, staff and friends!
Rustic Fine Dining
Welcome To
Oar Restaurant
Oar - 2022 Michelin Guide!
Oar – 2021 Michelin Guide!
Oar in the 2021 McKenna's Guide!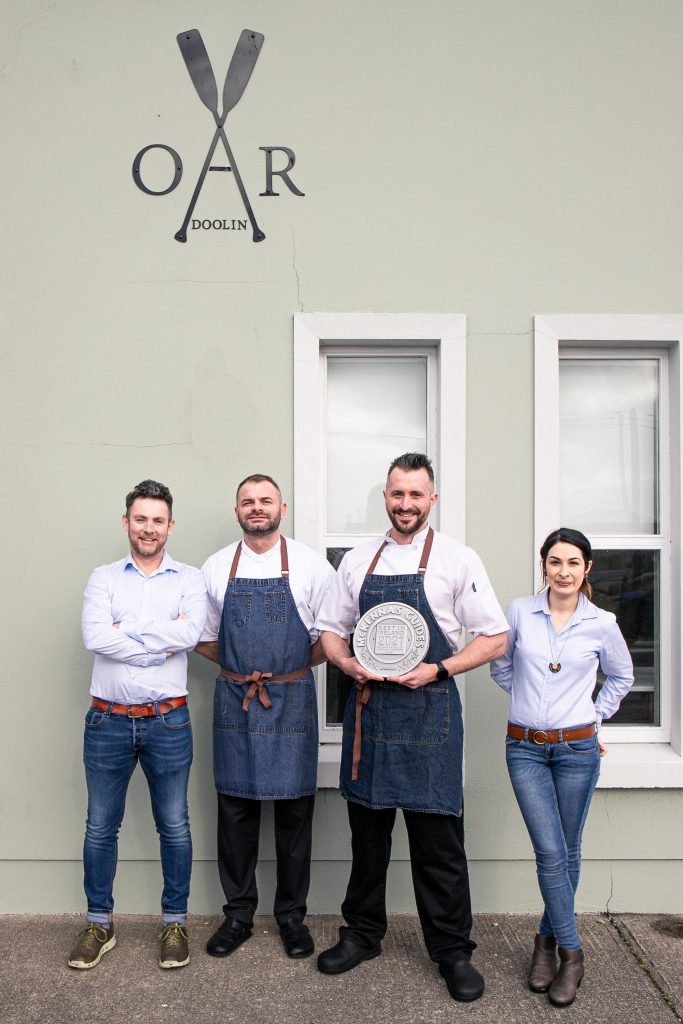 YesChef  "Newcomer of the Year"
Delighted to have won NEWCOMER OF THE YEAR IRELAND & NEWCOMER OF THE YEAR MUNSTER at the YesChef Awards.
Restaurateur Kieran O'Halloran is the man behind Oar – Well known for the fantastic gastro pub cuisine in Kieran's Kitchen at the Roadside Tavern in Lisdoonvarna, this new venture sees him delivering a vision for rustic fine dining in the heart of Doolin. Working closely with Head Chef Cezary Sodel, they have brought together decades of experience in the industry to create a menu that features the best of Co Clare produce.
Head Chef Cezary Sodel
Cezary Sodel came to Ireland in 2010 to work in Gregans Castle in Ballyvaughan. "I started in Gregans where I was lucky enough to work on every section. I spent a winter in The Tannery in Dungarvan and enrolled in GMIIT in 2014. I've been working with Kieran since 2017 and in 2019 moved to the kitchen in Oar."
Hi my name is Krzysztof Dzierzgowski. I'm the Sous chef in Oar Restaurant in Doolin. My adventure with cooking started in my young age. I have finished two gastronomic schools with flying colours and that's how my love to cooking and creating new flavours has began. Throughout the years I have worked with many different head chefs, some very demanding and paying attention to the smallest details. Chef's work can be quite hard and stressful, not always rewarding but definitely always very challenging…and I have always loved challenges and cooking! So here I am, very proud of my achievements, young Chef with 20years of experience, working behind the scenes in Oar, to please your taste buds.
Stay & Dine
Rooms
at Oar Doolin
Stay and Dine at OAR Doolin. Choose from 4 modern and relaxing double rooms plus one suite.